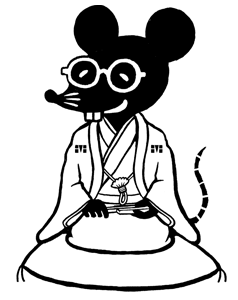 A long time ago, there was a mouse who was a fledgling comic storyteller. Although the comic's skills still had room for growth, his story about going to his younger sister's wedding was very popular. Along the way, he listens to love stories, stories of advancing in life, and stories about humanity. Then, whether it is true or not, he helps defeat ogres, and also, monsters make an appearance in his story. Although the plot of the story jumps all over the place, this itself is what makes the story interesting.
Books on the stories that he encountered during his journey are all available here, and we encourage you to look through them. You will be able to broaden your knowledge. Feel free to take your time and enjoy the contents of this Web site.
These contents are expanded in two directions using the comic storyteller mouse as a guide: "Enjoy picture tales" where you can look at a collection of original picture scrolls that feature illustrated tales from the medieval era, and "Learn about the works" that explain these tales, together with materials archived at our museum, in an easily understandable way. Please enjoy both.