Welcome to the homepage of Akashi Shimizu Prefectural High School! Thank you for taking interest in our school. Please continue reading for more information!
We are located in Southern Hyogo, in the sea side city of Akashi. Akashi city is between the major cities of Kobe and Himeji. Kobe city is about 30 minutes to the East, and Himeji city is about 30 minutes to the West. Though Akashi Shimizu High School is conveniently close to urban developments, it is surrounded by rural fields and lakes. The peaceful natural environment brings a relaxing and comfortable atmosphere to campus.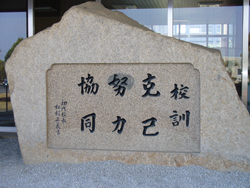 Akashi Shimizu High School was founded in 1980. The motto of our school is, "self-discipline, effort, and cooperation." In addition to teaching academics, it is our goal to educate students how to live actively with compassion. Currently our 10,229 graduates have flourished throughout Japan and achieved success across the country.
Six years after the foundation of our school in 1986, the Science Course (理数コース) was established. In 2003 its name was changed to "General Science and Humanities Course" (科学と人間) . This special course is for college-bound students who want to pursue careers in: medicine, pharmacy, agriculture, technology, and engineering.
In English "Shimizu" (清水) can be translated into "Pure Water." In kanji, "清" means "pure," and "水" means "water." Akashi Shimizu High School was named after an old fountain in Nonaka (野中の清水) that used to exist in this area.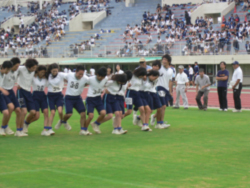 A popular phrase at our school is, "be faithful to the dreams of visions of your youth." We try our best to provide various opportunities to help students actualize their dreams and realize their potential. In addition to helping students develop their scholastic ability, we hope that they can enrich their lives with experiences that go beyond the classroom. Teachers emphasize the importance of learning through experience. We want academics to go beyond the classroom, and aim to teach students how to achieve harmony between intelligence, integrity, and physical health.
We believe that club activities are an important part of school life for the students. At Akashi Shimizu we have many active sports and culture clubs. Our campus is very lively and filled with activity after classes, and even on the weekends. Many clubs are successful in tournaments and events with other schools throughout Hyogo Prefecture.
To further enrich our students' academic experiences, we feel it is important to include our community in school events. At the annual school festival we invite community members to campus. Together we enjoy various kinds of food, fun, and entertainment.

At Akashi Shimizu we have a multitude of club activities for students to experience. We feel that students who participate in club activities will have a more fulfilling and rewarding educational experience. All of our clubs are divided into two categories, "Sports Clubs" and "Culture Clubs". Teachers are the main advisors for each club. The most popular clubs on campus are Boys Basketball and Girls Volleyball.

■ Sports Clubs Members: 492 students
Sports Clubs
Basketball (boys)
Basketball (girls)
Volleyball (boys)
Volleyball (girls)
Table Tennis
Handball (boys)
Handball (girls)
Soft Tennis
Baseball
Judo
Soccer
Track and Field
Rugby
Tennis (boys)
Swimming
Kendo
Dance (girls)
■ Cultural Clubs Members: 171 students
Cultural Clubs
Music
Art
Theater
Computer
ESS (English Speak Society)
Tea Ceremony
Environmental
Cooking
Traditional Japanese Music
Literature
Calligraphy
Photography

■ April: Opening Ceremony,

■ June: Cultural Festival
■ July: Volunteer Activity
■ August: Summer Vacation
■ September: Sports Festival
■ October: Open High School
■ January: School Trip
■ February: Graduation Ceremony
■ March: School Guidance

Address:
630-1 Shimizu, Uozumi-cho, Akashi-shi, Hyogo-ken
674-0074 JAPAN
Phone (078-947-1182)
Fax (078-947-1183)